What is the Lateral Head Roll test?
The Lateral Head Roll test is performed to identify horizontal canal BPPV. It has 2 additional features that provide significant improvements over the standard positional tests:
3D head model guide
Guide to assist in proper head placement
The Lateral Head Roll test is part of the VORTEQ Assessment bundle. 
Calibration
If you have not previously calibrated your eyes, you must do that first.
Performing the test
Select the Lateral Head Roll test from your test menu.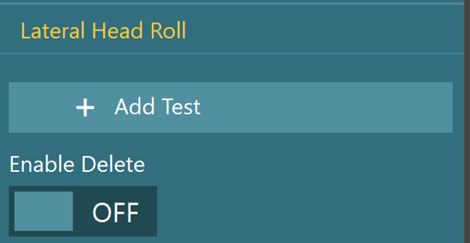 Figure 1 - Lateral Head Roll test menu
Once the system is calibrated, you are ready to begin testing. You will use the 3D Head Model to guide you through the appropriate head/body positions for the Lateral Head Roll test. Make sure the VORTEQ IMU is attached to the goggle and turned on. The test is performed with the patient Supine (laying down).
Step 1 is to turn the patient's head 45 degrees toward the Right.
Step 2 is to turn the patient's head 45 degrees toward the Left.
The black bar represents the head movement, and when the head is in the correct position, the shaded area will turn green. Once you have reached the first position, you can record for a minimum of 20 seconds, then press enter and proceed to the second step. Record another 20 seconds at minimum and then stop the test.

Figure 2 - Using the head model guide to perform the lateral head roll test
Results
When you have completed the test, you will see a summary screen with bar graphs representing any nystagmus that was generated during the maneuver. Any nystagmus greater than 6 deg/sec is shown highlighted in grey and represents an abnormal finding.

Figure 3 - Summary screen showing results from the right and left head rolls
For further assistance, if needed, please refer to the Instructions for Use and Additional Information manuals.