Updated by Leigh Martin on April 24, 2023.
What is nystagmus?
Nystagmus is an involuntary movement of the eye. There are many forms of nystagmus, but this article will focus on the most common type of nystagmus seen in patients with vestibular disorders: jerk nystagmus.
What is jerk nystagmus?
Jerk nystagmus is an involuntary eye movement characterized by the eye slowly drifting in one direction followed by a fast, corrective eye movement back to center, or in the opposite direction to the slow eye movement. The easiest way to understand jerk nystagmus is to examine this eye movement on a VNG graph (Figure 1).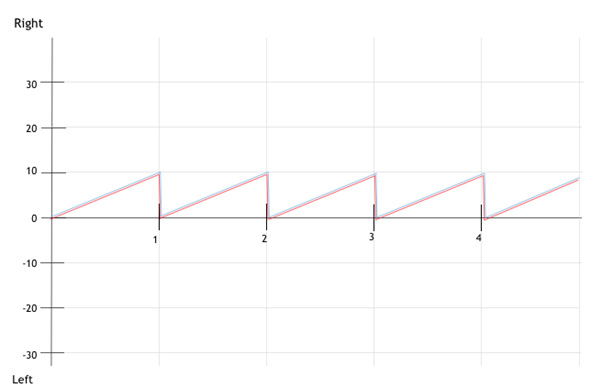 On the graph is a red and blue line which tells the examiner which eye is being recorded:
Red = right eye
Blue = left eye
The y axis shows how much the eye moves from center in degrees. If the eye drifts upwards on this graph, it means the eye is moving to the right. If it drifts downwards on this graph, it means the eye is moving to the left.
In a patient without nystagmus, you would expect to see a flat line. However, this is not the case in the example above. Instead, we see a typical jerk nystagmus. Let us explain this in some more detail.
Phases of jerk nystagmus
Jerk nystagmus comprises of two parts:
A slow phase which causes the eyes to drift in a certain direction
A fast phase which bring the eyes back to primary position (central position)
It is convention to refer to nystagmus by describing the direction of the fast phase.
In Figure 1, we can see the eye drifts slowly to the right (upwards on the graph) for a duration of about 1 second and then quickly moves back to center by moving to the left (downwards on the graph). Therefore, we can identify the fast phase is moving the eye in a leftwards (downwards direction on the graph), known as left-beating nystagmus.
In VNG, we are able to measure in three channels, capturing horizontal, vertical, and torsional eye movements. Jerk nystagmus can be recorded in each of these channels.
Related course: Getting started: VNG
What causes jerk nystagmus?
Jerk nystagmus can either be spontaneous or occur in response to a stimulus.
1. Spontaneous jerk nystagmus
The most common cause of jerk nystagmus is acute vestibular hypofunction. It is important to note that central vestibular pathologies can also cause jerk nystagmus, so the presence of a jerk nystagmus does not tell us its origin. Instead, it is important to look at the characteristics of the nystagmus to determine its cause.
For instance, jerk nystagmus caused by a peripheral hypofunction will always be fixed in the direction which it beats and will either reduce or be eliminated by visual fixation. Jerk nystagmus of central origin does not play by these rules – it can change direction and respond in many ways to visual fixation.
2. Stimulus-induced jerk nystagmus
Besides spontaneous causes, we can generate jerk nystagmus in the following ways:
Jerk nystagmus vs pendular nystagmus
Jerk nystagmus and pendular nystagmus have different nystagmus characteristics. With pendular nystagmus, there is not a fast or a slow phase. Instead, the eye oscillates back and forth at the same velocity, appearing as a sinusoid on the VNG graph.