One application for diagnostic otoacoustic emissions is in the use of ototoxicity monitoring.
Ototoxic agents include antibiotics (particularly aminoglycosides), loop diuretics such as furosemide, chemotherapeutic drugs including cisplatin and carboplatin.
Such treatments are often required for life-threatening medical conditions.
Monitoring protocols aim to assist in the identification of ototoxicity which can then inform dose changes, adjustments to treatment plans, and early rehabilitation to mitigate the effects of ototoxicity.
Across a large number of studies, the incidence of cisplatin-induced hearing loss was found to range from 11% to 97% (average 62%) (Schweitzer, 1993).
Kennedy et al (1990) found the incidence of carboplatin-induced hearing loss to be 19%, while Parsons et al (1998) placed it at 82%.
Lanvers-Kaminsky et al (2006) concluded that hearing loss cannot be predicted based on the platinum dose or plasma concentration. This extent of variability indicates a need to monitor ototoxicity on an individual level.
DPOAE or TEOAE?
Of the evoked family of otoacoustic emissions, distortion product OAEs (DPOAEs) lend themselves better to ototoxicity monitoring than transient evoked OAEs (TEOAEs).
DPOAEs are able to measure at higher frequencies than TEOAEs which have an upper limit of 5 kHz.
Furthermore, DPOAE testing provides frequency specific information regarding the results obtained in a more effective and concise manner.
DPOAEs provide an objective measure of cochlear hair cell function, the very part which is damaged by ototoxic agents, and this objectivity can be valuable in the assessment of very young children.
Such objective measures are a useful addition to the test battery when there may be questionable reliability regarding behavioural responses, or for those individuals who may be too unwell to perform a behavioural assessment.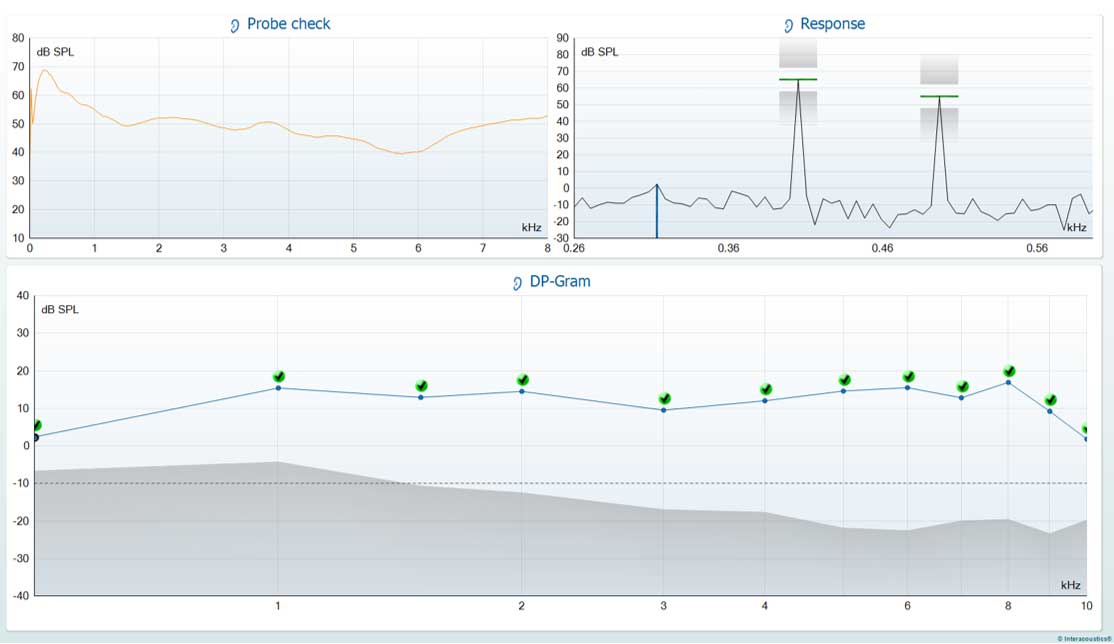 Test up to 10 kHz using DPOAEs.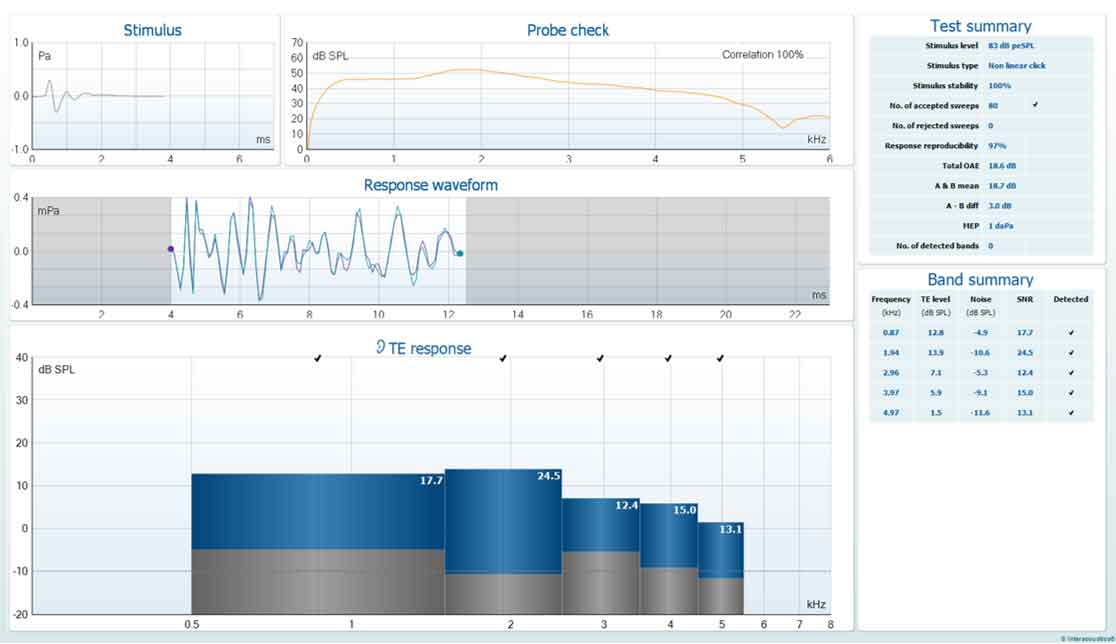 Test up to 5 kHz using TEOAEs.
Perform extended high-frequency audiometry and DPOAE in combination with each other
Ototoxicity is known to occur first at the basal end of the cochlear which corresponds to high frequency hearing (Leigh-Paffenroth et al, 2005).
Ideally, both extended high-frequency audiometry and DPOAE testing should be performed and interpreted in combination with each other, where possible.
Knight et al (2006) identified a trend whereby ototoxic changes appeared first in the results of extended high frequency audiometry, then in DPOAEs, then in the typical audiometric frequencies.
For those whom extended high frequency audiometry is not possible, DPOAE testing can measure up to 10 kHz using the Interacoustics OAE Suite, providing valuable diagnostic information which might otherwise not be obtainable.
Tympanometry is another valuable addition to the test battery as DPOAEs are sensitive to middle ear dysfunction which has a high incidence amongst the pediatric population and those who are immuno-compromised, for instance by ototoxic agents (Ganesan et al, 2018).
Pressurized DPOAEs, which are available using the Titan, can be a useful tool in the assessment of these patient groups, as this method of performing OAE testing can overcome the effect of middle ear dysfunction (Beck et al, 2016; Zebian et al, 2013).
This is particularly pertinent in sequential testing taking place over the duration of ototoxicity monitoring in order to remove the confounding effects of transient middle ear dysfunction on the OAE results.
The high variability of ototoxicity-induced hearing loss and the range of potential challenges (age, middle ear function, reliability of and ability to perform behavioural testing) in being able to successfully complete a full test battery emphasise the need to obtain baseline information prior to the administration of ototoxicity medication.
In the Interacoustics OAE Suite, previous session results can be overlaid upon each other to allow direct comparisons to be analysed effectively.

Test results from multiple sessions can be overlaid.
There continue to be some challenges in recording high frequency DPOAEs which can relate to the size and resonance of the ear canal and depth of insertion of the probe tip.
Repeating assessments within sessions where possible, with attention to careful probe refit each time, particularly when opting to test to 10 kHz, can help add weight to the reliability of the results obtained.
The comparison feature within the Interacoustics OAE Suite can help to compare the measurements obtained within each session to then ensure the most appropriate recording is used for the sequential monitoring.
About the author
Amanda Goodhew, BSc (Hons) MSc Audiology, holds a Master's degree in Audiology from the University of Southampton. She has extensive experience holding senior audiologist positions in numerous NHS hospitals and clinics, where her primary focus has been pediatric audiology. Her specific areas of interest are electrophysiology, neonatal diagnostics and amplification, and the assessment and rehabilitation of patients with complex needs.
References
Beck, D.L., Speidel, D., Arrue Ramos, J. & Schmuck, C. (2016) Otoacoustic Emissions and Pressurized OAEs. Hearing Review, 23(7), 30.  
Ganesan, P., Schmiedge, J., Manchiah, V., Swapna, S., Dhandayutham, S. & Kothandaramn, P. P. (2018). Ototoxicity: A challenge in diagnosis and treatment. Journal of Audiology and Otology, 22(2), 59-68.  
Kennedy, I.C., Fitzharris, B.M., Colls, B.M. & Atkinson, C.H. (1990). Carboplatin is ototoxic. Cancer Chemotheraphy and Pharmacology, 26, 232–234.  
Knight, K.R., Kraemer, D.F., Winter, C. & Neuwelt, E.A. (2007) Early changes in auditory function as a result of platinum chemotherapy: Use of extended high-frequency audiometry and evoked distortion product otoacoustic emissions. Journal of Clinical Oncology, 25(10), 1190-1195.
Lanvers-Kaminsky, C., Krefeld, B., Dinnesen, A.G., Deuster, D., Seifert, E., Würthwein, G., Jaedhe, U., Pieck, A.C. & Boos, J. (2006) Continuous or repeated prolonged cisplatin infusions in children: A prospective study on ototoxicity, platinum concentrations, and standard serum parameters. Pediatric Blood and Cancer, 47, 183-193.  
Leigh-Paffenroth, E., Reavis, K.M., Gordon, J.S., Dunckley, K.T., Fausti, S.A. & Konrad-Martin, D. (2005) Objective measures of ototoxicity. ASHA Special Interest Division 6, Hearing and Hearing Disorders: Research and Diagnostics, 9, 10-16.  
Parsons, S.K., Neault, M.W., Lehmann, L.E., Brennan, L.L., Eickhoff, C.E., Kretschmar, C.S. & Diller, L.R. (1998). Severe ototoxicity following carboplatin-containing conditioning regimen for autologous marrow transplantation for neuroblastoma. Bone Marrow Transplant, 22, 669–674.
Schweitzer, V.G. (1993). Cisplatin-induced ototoxicity: effect of pigmentation and inhibitory agents. Laryngoscope, 103 (Suppl 59), 1–52.
Zebian, M., Schirkonyer, V., Hensel, J., Vollbort, S., Fedtke, T. & Janssen, T. (2013). Distortion product otoacoustic emissions upon ear canal pressurization. Journal of the Acoustical Society of America, 133(4), 331-337.