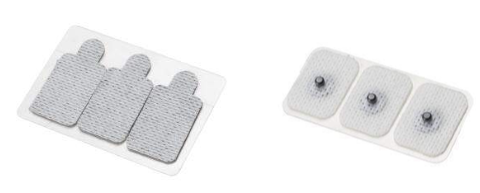 To ensure the optimal use of your Sanibel disposable tab or snap electrodes, please observe the following:
Ensure that the skin is clean and dry before placing the electrode.

It is recommended to use an alcohol wipe or similar to clean the skin prior to electrode placement.
If your patient's skin is sweaty or very oily, an alternative electrode with stronger adhesion, PEG15 electrodes (part number 8500060), is recommended for use.

When applying electrodes to the skin, press down firmly on the entire electrode surface to improve adhesion.
Use a small amount of conductive electrode gel to improve impedances, if required.
Use pinch or button cables for snap electrodes and alligator cables for tab electrodes.
Electrode adhesion time is limited to a maximum of 1 hour.
Store unused electrodes in unopened pouches at temperatures 5°-27° C / 40°-80° F.
Use before the expiry date printed on the pouch.
| | | |
| --- | --- | --- |
| Alligator cables | Pinch cables | Button cables |