The Callisto™ Suite has pre-defined protocols. Most of these protocols can easily be copied, modified or created from new. These modifications can be either permanent or temporary.
Selecting a standard test protocol
Open the Callisto™ Suite from Noah, OtoAccess®, or stand-alone.
Click on the HIT tab.
In the List of Protocols, all customized and standard test protocols are listed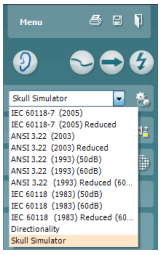 Designing a new customized test protocol
Enter the HIT440 setup by pressing Menu/Setup/HIT440 setup.
Press New. A pop-up will ask whether the new test protocol should be based on a copy of the currently selected test protocol. When asked by the message box:

YES: The system will create a copy of the current test and allow you to add new tests, make changes, and save it under a new name.
NO: The Selected tests section will be blank and you can create a new test from scratch.

Name the test protocol setup in the Selected protocol section.
Select the tests to be included in the test protocol. Mark a test by clicking on it and press the Add. Double 
clicking on a test will also select it. Choose all the tests for the test protocol using this procedure.
To remove a test selected by mistake, select it under Selected tests and press Remove. The test will then 
jump back to the Test selection list.
If the order of the tests is to be changed, use the two Move arrow buttons.
Mark the test to be moved and press one of the arrow buttons. Depending on the direction of the selected 
arrow, the test will then jump up or down.
To make adjustments to the parameters of each selected test press Settings.

In General settings find the following additional options:

Display combined screen allows for comparing different curves by default in the same graph. The option is also available from the front screen. Which curves to compare can be setup individually.

Coupler allows you to select the preferred coupler to be used in the test protocol. 
Select from 0.6 cc, 1.2 cc, 2 cc, and Ear simulator (IEC 711)

Note: Prior to creating a new test protocol you may wish to select a protocol type in the Protocols to view dropdown list. This function is practical if you for example wish to create a new protocol based on elements from the ANSI or IEC standard.

In this case the dropdown list can be used to select an ANSI or IEC standard before clicking New. When asked if the new protocol should be based on a copy of the currently selected protocol, click yes.