How to Verify Directional Hearing Aids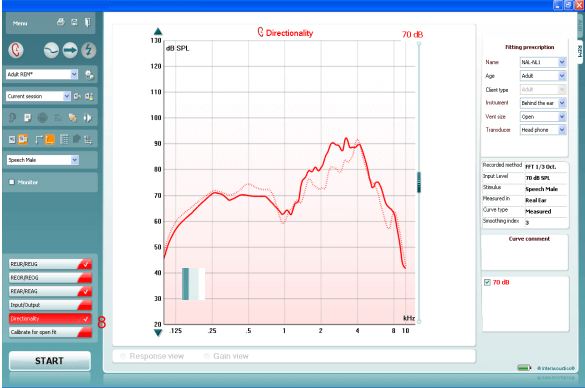 Directionality Test using Real Ear Measurements
From your patient management system, Noah or OtoAccess®, launch the Affinity or Suite.
Launch the REM440 module by clicking on the REM tab.
Prepare the patient for Real Ear Measures.
Calibrate the probe tube.
If fitting an open hearing instrument, perform Calibrate for open fit.
Ensure that the correct Ear is selected.
To activate the Directional Test, go to: Menu│Setup│Show/hide protocols│US│Standard Directionality. Insert the checkmark inside the box in front of Standard Directionality. This will ensure that the Directionality test is available from the list of protocols drop down menu (f choosing US country defaults during the Affinity or Callisto software installation, the Directionality test will be available by default)
Choose the preferred Stimulus in the corresponding dropdown list.
Change the input level using the slider if desired.
Click START and follow the instructions on screen
Place the client in front of the loudspeaker as shown on the picture. Click OK and front microphone curve will be recorded. New instructions will immediately appear. Turn the client around and click OK. 

How to add the directionality test to an existing protocol
Go to Menu │Setup │REM440 Setup.
Choose a protocol to copy (ex: Adult Aided Response) from the drop down list.

Click New to create a new protocol.
Click Yes when the software asks if you want to copy the currently selected protocol (If selecting NO, you will have to create the protocol from scratch, which is beyond the scope of this document. For more info, please refer 
to the Instructions for Use document, Additional Info document or Quick Guide on Protocol Setup )
Rename the Protocol.
Add the Directionality test to the existing protocol.
Edit the settings if desired by clicking on the Settings button

Adjust the Settings if desired .

---
Presenter