ISO 14001 certification ensures a coordinated initiative to enhance Interacoustics' environmental performance.
Interacoustics has a desire to lower their impact on the environment and reduce their carbon emissions. Thus, it was natural to apply for an ISO 14001 certification – a recognized environmental standard which sets out criteria for an environmental management system and its initiatives.
The ISO 14001 certification is Interacoustics' first active decision to incorporate environmental initiatives and performance into their business strategy.
Carsten Kind, President at Interacoustics says.
"The new ISO 14001 certified environmental management system is a great tool for Interacoustics to translate our passion for doing something for the environment into effective actions that will make a difference."
With the ISO 14001 certification, Interacoustics has identified objectives for their environmental performance, which will be measured over time.
Transition to circularity
The environmental management system addresses the entire Interacoustics product life cycle from the supply chain to end of life. Merete Rath, Quality Manager and primary responsible for the ISO 14001 certification, specifies:
"We are ambitious about our initiatives. We will start with the low-hanging fruits. But we want to involve all our stakeholders in the circular mindset, which lasts from the idea of a new product until it's recycled after many years of service."
Green solution objectives
With the objectives set in their new environmental management system, Interacoustics aims to:
Integrate environmental concerns in their product design processes
Ensure sustainable product-end-of-life treatment
Optimize packaging and use recycled packaging materials
Reduce their carbon footprint – mainly from the supply chain and shipment of products
Improve waste management at Interacoustics' headquarters
"To succeed with our reduction objectives, it's critical for us to insist on a sustainable supply chain," Merete says.
Optimized and recycled packaging materials
Interacoustics has already started the process of optimizing packaging. For instance, all cardboard boxes are now made from FSC or recycled resources, and they have introduced a 100% recycled plastic tape for boxes for all shipments of Interacoustics products.
Further packaging initiatives in 2022 will be to introduce stretch foil using 80% recycled materials, introduce plastic bags using recycled materials and reduce packaging materials.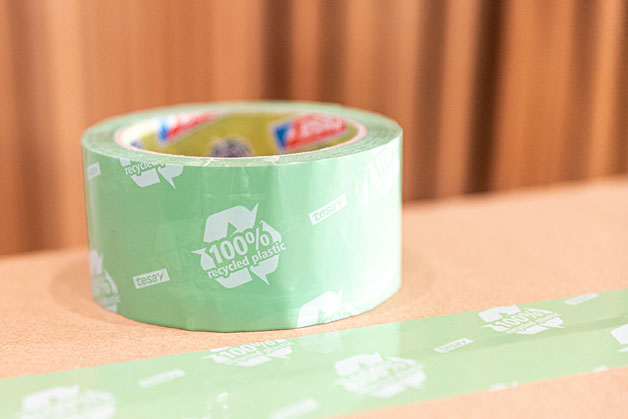 This ISO 14001 certification only applies to Interacoustics' headquarters in Middelfart. Their production site in Mierzyn, Poland is already certified according to ISO 14001.
Learn more about Interacoustics' sustainability activities here.