In February 2022, Anna Marie Jaska celebrated her 50-year anniversary with Interacoustics. She has designed printed circuit boards (PCBs) for almost all Interacoustics devices during the past 50 years.
Anna's screens are full of colorful lines. Hundreds of small components connected by a crisscross chaos of lines. But she'll sort this out.
She has designed PCBs for Interacoustics devices for 50 years and she's known and respected among her colleagues for her unique ability to keep track of the thousands of parts and connections in each PCB.
"I'm good at juggling many things and converting that to a PCB. You might say that I put jigsaw puzzles together each day at work," Anna says.
She shows the PCB that she's working on now on screen. Half of the small components are neatly arranged on the circuit board, while the rest are currently helter-skelter. It looks like an impossible task to fit them all, but she will. As her colleagues say: "Anna always finds space."
A younger Anna used to spend many hours in her dad's garage in a village near Assens where she grew up. Her dad was a mechanic and – perhaps inspired by Anna's interest in his garage – he secured an electronics-mechanic apprenticeship for his daughter. This was the beginning of her long career.
Anna and the Queen of Denmark
Anna started as an apprentice at Interacoustics in Assens on February 16, 1972. She was 19 years old, and Margrethe II had just become the Queen of Denmark.
Thus, Anna and the Queen of Denmark could both celebrate their 50-year anniversaries a month apart.
"It's a bit funny," she comments, and tells that King Frederick IX died and Queen Margrethe II was instated as regent on her 19th birthday.
The two queens may meet each other face to face. Anna's manager, Lars Berthelsen, has recommended her for the Royal Medal of Recompense and writes in his recommendation:
"Anna has followed the development of a technology from 1972 to this day. She has designed PCBs for electronics for 50 years and thus followed one of the greatest developments during the past 100 years. Anna's fingerprint is crystal clear and is a driving force on this discipline at Interacoustics. She's an empathic colleague that encourages a positive atmosphere and is always equipped with a smile."
PCBs on parchment paper
The workflow of designing PCBs hasn't changed much during the past years. "It's pretty much the same procedure as always. It's piecing together a jigsaw puzzle and putting it on a copper plate with the correct wiring," Anna explains. Since she started as an apprentice 50 years ago, the complexity has risen a lot. Back then, we were talking 1-2 layers. Now, it can easily surpass 30 layers.
The working methods have also changed. Since 1989, Anna has assembled PCBs on her computer. Until then, she taped magnified PCB models onto parchment paper. Anna worked solely at her home office from the arrival of her first child in 1976 until 2000. The covid-19 pandemic has re-introduced her to the home office. "It's peaceful and easier to concentrate," she comments.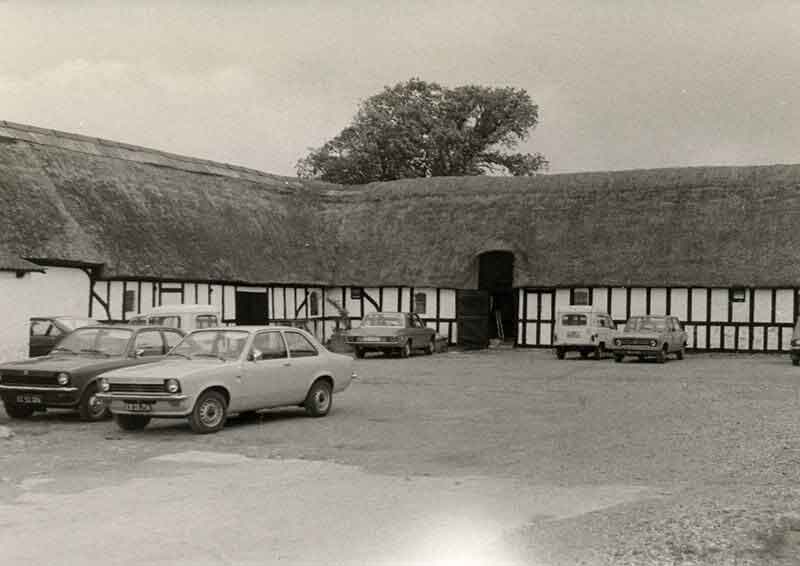 Anna started with Interacoustics in 1972 when the company was situated at an old farm outside of Assens on Funen, Denmark.
The color purple
She's known not only for her overview and precision, but also her purple clothes. Purple is Anna's favorite color, no question about it. "Purple makes me happy and it kind of symbolizes me", she says with a grin on her face.
After hours, Anna never puts jigsaw puzzles together. There's plenty of that at work. But she doesn't lay about. She cultivates her own kitchen garden with vegetables, she's a member of the Danish Association for Local History and goes to gymnastics during the winter half-year. Every day, Anna walks her dog, crochets patchwork, and sews her own clothes. Ideally purple clothes. She lost her husband almost four years ago, with whom she has three children and four grandchildren, which she spends a lot of her spare time with.
A quiet celebration
Anna will be celebrated at Interacoustics on February 22, but if she was to decide, nothing special should be planned. "I'd prefer a quiet celebration. I usually stay in the background. It's like the green PCBs in the devices. You can't see them, but they're important because the devices won't work without them", she says.
An Interacoustics without Anna. Is that even possible? She's 69 years old and all Interacoustics devices have one of her PCBs in them. "It's a nice thought, and it's a stamp of my work."
With her 50 years on the throne, Queen Margrethe II of Denmark is the second-longest serving regent in Denmark. Anna is by far Interacoustics' longest-serving employee ever, and retirement is not around the corner. "I'll keep going as long as I'm happy to go to work", she says.
About the author
Ina Clausen is a Master of Arts (MA) in Journalism, having graduated from the Southern University of Denmark in 2014 and specialized on strategic communication. She has more than 15 years of experience within the realm of journalism and video journalism, holding the position as Video Journalist at Interacoustics A/S since October 2018.