In May 2023, the Global Foundation for Children with Hearing Loss (GFCHL) launched a multi‑year pediatric program in Nepal. With Interacoustics equipment donated by the William Demant Foundation and training provided by the GFCHL, community ear health workers (CEHWs) and professionals in Nepal are beginning to screen and diagnose babies and very young children with hearing loss and help them to learn to listen and talk.
The Nepal program is a collaboration between GFCHL and CHEERS, a pediatric hospital in Kathmandu. The goal is to implement the full range of care from infant hearing screening to hearing habilitation throughout the Kathmandu Valley and then scale the program to other areas of the country. Such services and expertise are limited in Nepal, which is a low resource country with challenging terrain.
Immunization centers are ideal for infant hearing screening
Nepal has an impressive 95%+ immunization rate among all babies and young children in the country. This means immunization centers are a promising place to capture infants for hearing screening. When trained, CEHWs in the CHEERS network can administer hearing screening in infants in combination with their immunizations.
After completing the GFCHL's proprietary training program in pediatric audiology and auditory‑verbal therapy, the CEHWs will also be prepared to assist with audiology and therapy tasks, particularly for families who live outside Kathmandu.
The GFCHL's training curriculum is taught in-country in a series of workshops over time with the same participants. Those trained by the GFCHL will be prepared to train others to make the benefits exponential and sustainable. Tele-health methods can link these CEHWs and families from remote areas to CHEERS professionals in Kathmandu.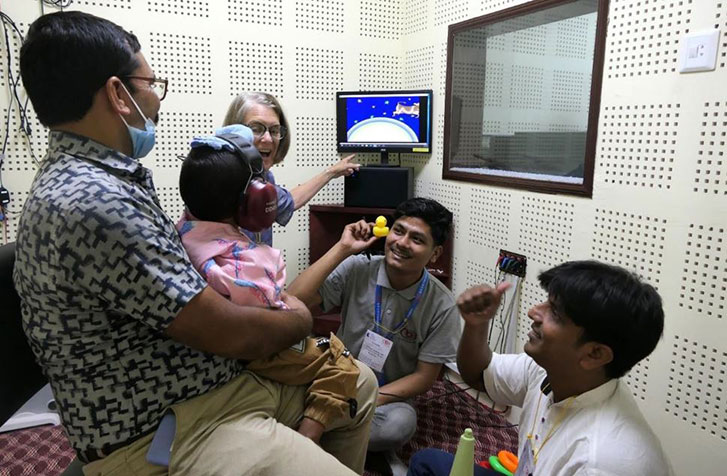 The following Interacoustics equipment was donated to GFCHL to enable this work at the CHEERS hospital and remote health posts in Nepal:
The William Demant Foundation also granted Oticon hearing aids and financial assistance to GFCHL to support this initiative.
Diatec Singapore helped with the installation
In early May, Diatec Singapore joined the GFCHL in Nepal to install some of the donated Interacoustics equipment in CHEERS' audiology suite. The following week, the GFCHL professional team arrived from the United States to launch the GFCHL's training program with its first two-week workshop on pediatric audiology and auditory-verbal therapy for Nepali audiologists, therapists, and CEHWs.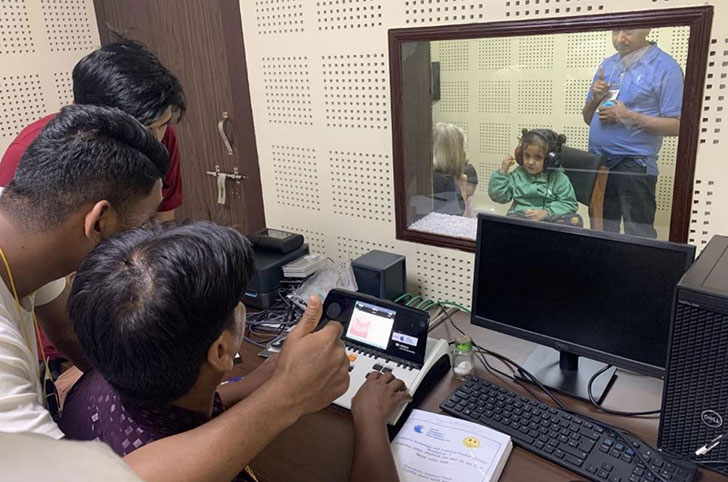 During the pediatric audiology training track, the focus was on building fundamental skills to diagnose and support babies and young children with hearing issues, how to use each piece of the donated Interacoustics equipment, and the theory behind their applications.
On the auditory-verbal therapy side, the participants learned about auditory, speech, and language development in young children. They learned how to assess young children with hearing loss, identify developmental goals, and to create therapy plans with strategies for families and caregivers.
Practical sessions with young children with hearing loss and their families during both training tracks gave all participants a hands-on application of lessons learned with the support of the GFCHL professional team. A family seminar provided information to new families about how to support their children's listening and spoken language development at home.
Supporting families in both Kathmandu and rural areas
Following this first event, three health posts in the Kathmandu Valley are now screening infants for hearing loss. Those who do not pass are referred to the CHEERS hospital for diagnosis, counseling, hearing aid fitting, and therapy services as needed.
The CEHWs will also provide remote support to the hospital professionals by serving rural families at the health posts with basic otoscopy, tympanometry, and hearing aid maintenance using the Interacoustics equipment and Oticon supplies provided to them.
Paige Stringer, Founder and Executive Director of GFCHL, offered her sincere gratitude:
"Many thanks again for your generous support which has enabled us to make quick and effective progress to help infants and young children in Nepal have a chance to listen, talk, and thrive. We are off to a great start!"