As a clinician who sees patients day in and day out, you want personalized software that's tailored to your preferences. Luckily, VisualEyes™ has an incredible amount of options for you to adjust your test protocol and software setup to work for your needs and wants! Below are 5 ways to personalize your VisualEyes™ software.
1. Turn on or silence audio indicators by test
Some clinicians love audio cues during testing and others do not. Regardless of your preference as a clinician, you have options in VisualEyes™! Under 'System Default Settings' and 'Test Type Settings', you can choose a test and define what audio cues (if any) you want during testing (Figures 1 and 2).
You can turn on a voice that speaks upon each interval or you can turn on a beep for each interval. You can even determine what you want the interval to be (from 5 to 30 seconds). These auditory cues can be especially beneficial for you (and the patient) to know how much longer is remaining in the test if you are not currently looking at the test screen. This flexible feature allows you to get exactly the auditory feedback you want for each test without having to completely mute your computer.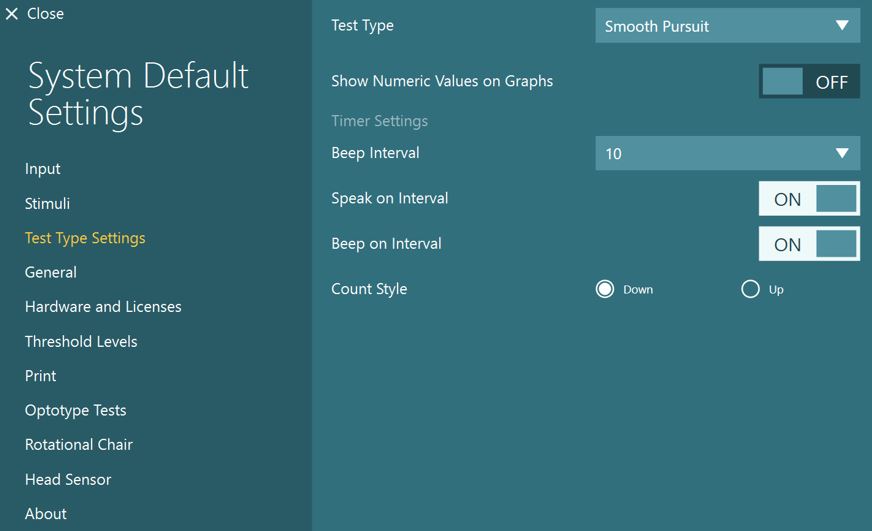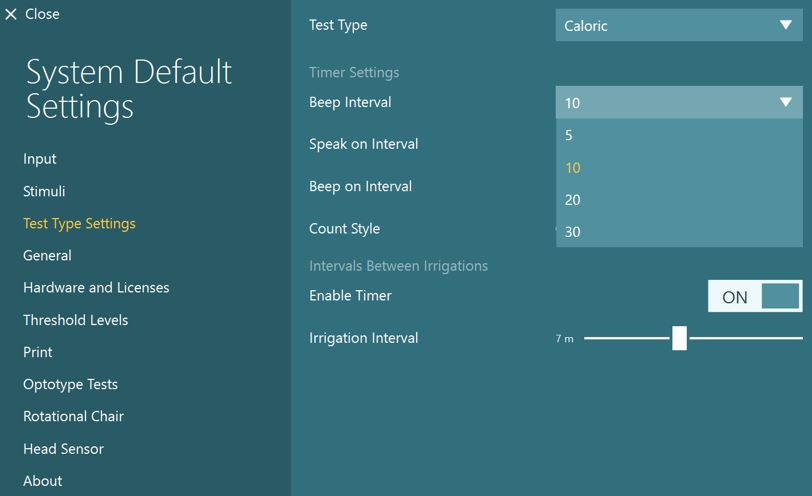 2. Add in your own clinical norms
Many clinics realize the importance of collecting site-specific normative values, especially for new tests that may not have published normative data. Under 'System Default Settings', there is a feature called 'Threshold Levels' where you can input your own normative data by age (Figure 3).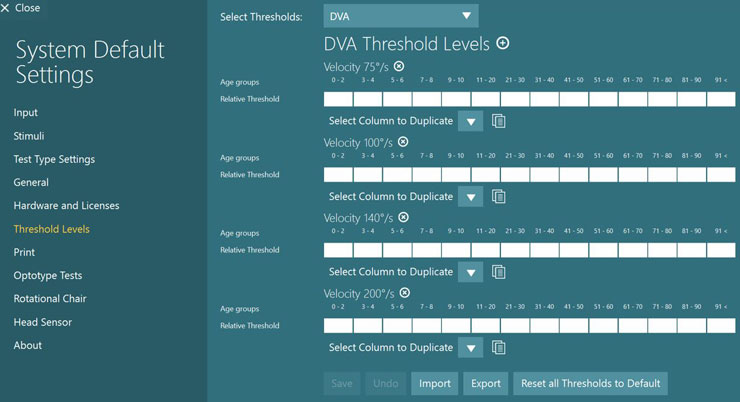 Adding in normative threshold data allows you to compare your patient's data to this data set on not only the live graphs during testing, but also the summary graphs following testing. This allows you to truly call a patient's results normal or abnormal. Plus, the green check mark or red diamond will then follow the inputted normative data.
3. Personalize order and timing of positions in tests
There are several tests that use multiple positions during testing, such as the Ocular Counter Roll (OCR) and Advanced Dix-Hallpike tests. Depending on your preferences and clinical flow, you may want to change the order or length of certain positions. To do this, go to 'Protocol Management' and select the test in the protocol you want to edit (Figure 4).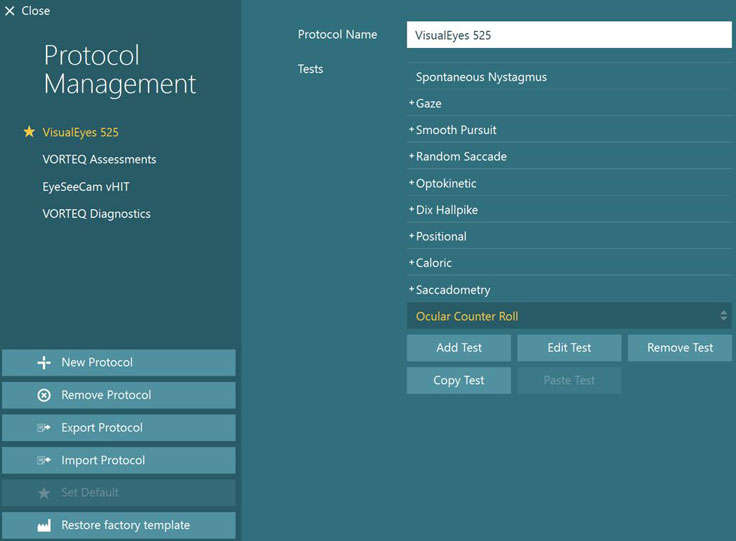 Select 'Edit Test'. Here, you can change the name of the test and change target type or color. Click on the gear icon next to the test name to access more adjustments (Figure 5).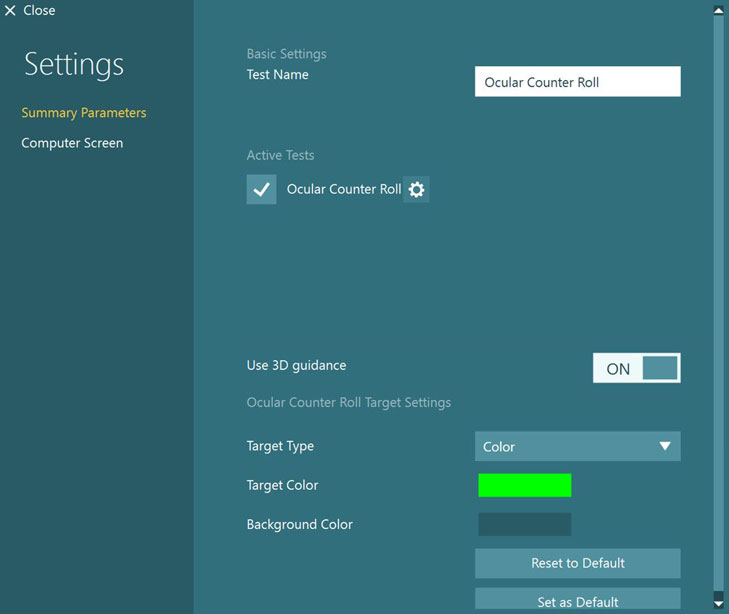 Change the order, length, or name of test sections to appeal to your specific clinical needs (Figure 6).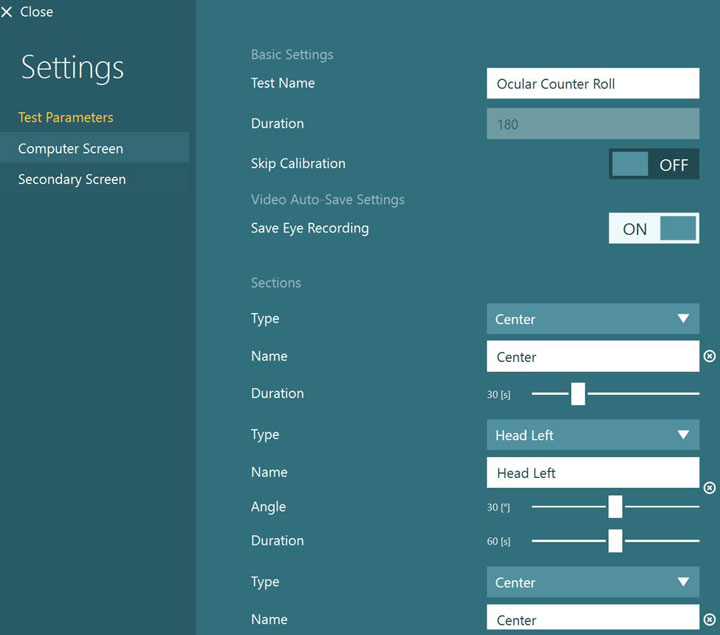 4. Input report templates into VisualEyes™ for easy report writing
After you have finished testing your patient and are reviewing results on the 'Session Review' page, you may have noticed that there is a 'Write Report' option at the top of the page (Figure 7).

When you click on 'Write Report', it brings you to a blank word processor where you can type and format your summary to be included with the test results (Figure 8).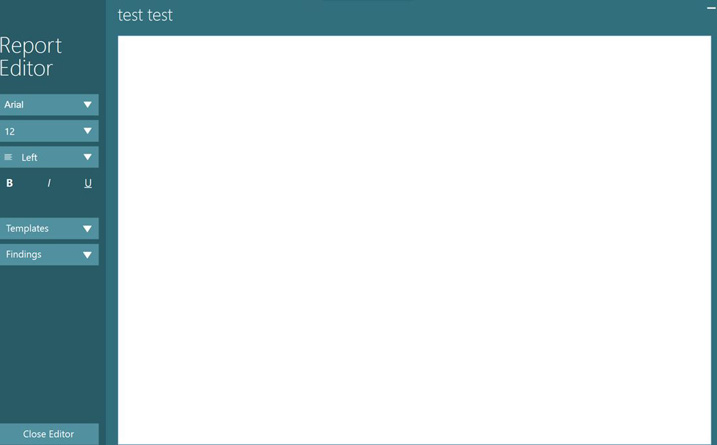 If you need help with getting your report started, there are pre-existing report templates included or you can create/import your own templates (Figure 9).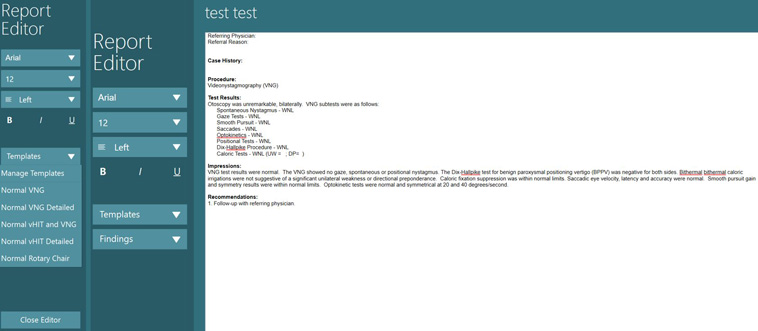 There are even templates for abnormal test findings that you can use or edit. The 'Manage Findings' or 'Manage Templates' options allow you to edit a pre-existing template or create your own (Figure 10).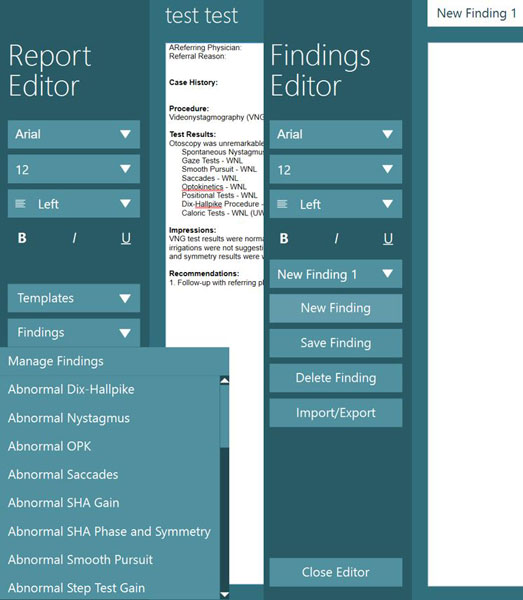 After inputting and editing your written template, you can add this to your results printout, and the first page of your report will look as follows in Figure 11.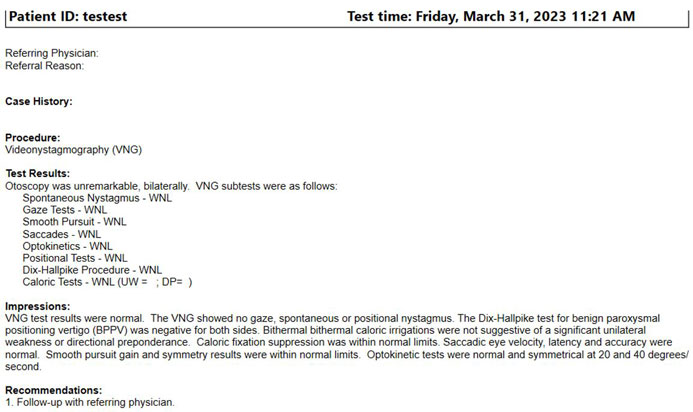 5. Switch the fixation light position
Using a fixation light during testing has many uses from both a diagnostic and logistic value.
Most importantly, a fixation light can help you determine if your patient can centrally suppress present nystagmus. This information can be critical in determining whether your patient's nystagmus is of central or peripheral origin.
Read also: Central dizziness in VNG assessments
A fixation light can also help bring a patient's eyes back into primary gaze (looking forward), as we know the direction of gaze can impact nystagmus strength.
The fixation light defaults to the left side. But this is something you can change! Under 'System Default Settings', go to 'Input' and 'Fixation Light Position' to toggle between the left and right sides (Figure 12). While you may not need to change this often, there are times that certain patient populations may have difficulty seeing the fixation light on one side.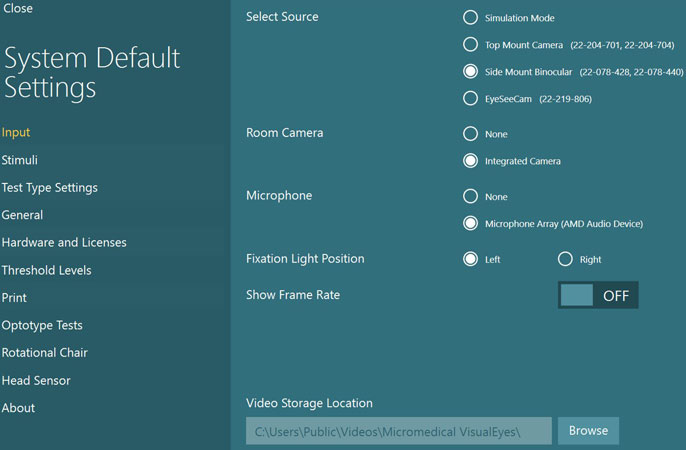 Improve your clinical flows
These options for personalizing your clinical flow exist to make your appointment with your patient smoother and more comfortable for you as the clinician. These are just a few examples of the many options available to you in Protocol Management and System Default Settings!
Explore and make the VisualEyes™ software personalized for your needs.
About the author
Liz Fuemmeler, Au.D., is a Clinical Product Manager at Interacoustics. She graduated from Purdue University in 2019, and spent three years at Hearing and Balance Specialists of Kansas City as a Vestibular and Concussion Audiologist before joining Interacoustics in July 2022.